Nationally known coaching educators Wayne Harrison, Jeff Tipping, and University of Washington's women's soccer head coach Lesle Gallimore, are headlining the second-annual Northwest Coaching Summit!
The Summit kicks off May 31-June 2 at Starfire Sports, in Tukwila, Wash!
Other top clinicians include:
Tipping, Gallimore, Moschos and Flogaites are all back for their second appearence -- by popular demand!
Coaching Summit Facts
Date: May 31st - June 2nd.
Early-bird Special: $150 per coach (PSPL); all others, $175.
Regular Fee: Fee rises to $200 per coach on May 21th.
Summit Itinerary: Friday night lecture by Jeff Tipping kicks off the weekend: "The DaVinci Coach - The Future American Coach."
Saturday: Full day of sessions, 9am-6pm @ Starfire Sports.

Expert Panel Discussion: 6pm Saturday evening.
Sunday: Specialist training sessions run from 9am to 12:30pm.
Wayne Harrison is the author of several popular books on soccer awareness that focuses on improving the players speed of thought and awareness on the pitch. Wayne is currently one of the coaching directors for Surf Club, in San Diego.

One of the most progressive thinkers soccer educators, he focuses his talents on how to improve the players' speed of thought, speed of play, and creative thinking in game and training situations.

"With this in mind, I created the Soccer Awareness philosophy of developmental coaching and training," Wayne said. "It simply means training the mind before the body."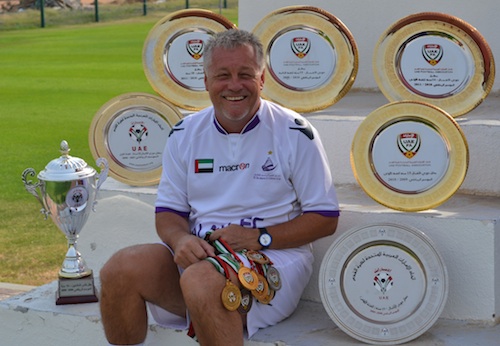 Wayne is also a big believer in the 4-2-3-1 system used by Barcelona, among other top clubs. He demonstrated how to train that formation at the youth level -- to coaches attending the recent NSCAA convention in Idianapolis. His responsibility at Surf: to introduce the formation club-wide as well as a curriculum to help its coaches teach it to the players.

Wayne, who authored a book on how to coach the 4-2-3-1 system, is a former professional player in England. Since retiring from pro ball, he has been a highly qualified professional coach. He has held the position of Academy Director at Blackpool Professional Football Club in England and at Al Ain Professional Football Club in the UAE.
He holds an UEFA "A" and a NSCAA "National Premier" license. He has shared his vast knowledge as a youth coaching director at several top-flight youth clubs, including Surf, where he direct's the boys' program.
He also earned a Bachelor's Degree in Applied Physiology and Sports Psychology. In addition, Harrison is a well known and respected author with eleven books published on soccer player development and coaching.
On joining the Surf Club, coaching director Colin Chesters had this to say about Wayne's talents: "Harrison's teaching background will help move our entire coaching staff to the next level. One of his real passions in soccer is coach education and helping others improve themselves. His enthusiasm and personality will energize our boys' side."
For more information about Wayne Harrison, click SOCCER AWARENESS
Following Tipping's Friday night lecture -- which is a must-see event for any aspiring American soccer coach - the coaching sessions commence.
This year's Summit will follow two themes.
On Saturday June 1, the coaching presenters --with youth demonstration teams -- will offer a series of different training sessions designed to help the local youth coach sharpen and elevate their coaching. They will learn what skills these experts want from their top youth players.

On June 2, the day will be devoted to specialist training -- from keeper exercises to training the midfield playmaker to defending and finishing sessions. These are designed to help you elevate your coaching skills -- and give you new ideas -- to bring back to your teams.

The popular panel discussion will be back on Saturday night! It will give local coaches the chance to discuss all of the burning coaching issues with our esteemed soccer experts.
The Coaching Summit is open to all coaches. We welcome everyone for an inspiring, fun and informative weekend of coaching education!

---
The Puget Sound Premier League presented its first-annual Northwest Coaching Education Summit for soccer coaches young and old, new and experienced. They congregated at Starfire Sports facility May 18-20, 2012, for two and a half days devoted to celebrating the art and craft of coaching soccer.
The Northwest Coaching Summit was headlined by Tony DiCicco, NSCAA and US Soccer Hall of Famer, World Champion Coach, who led the US Women's National Team to a Gold Medal in the 1996 Olympics and a World Cup victory in 1999
Other top level coaches and coaching education experts presenting: Irish FA and national coaching consultant Jeff Tipping, formerly NSCAA Director of Coaching; University of Washington Head Women's Soccer Coach Lesle Gallimore.
Former England National Team goalie and youth-coach guru Tony Waiters; Slammers FC founder and coaching director Walid Khoury; New York Red Bulls Manager for Education and Coaching Development Simon Nee; and many local and regional coaches.
Full Presenters List:
| | | |
| --- | --- | --- |
| Presenter | Program | Home |
| Simon Nee | New York Red Bulls | Weehawken, NJ |
| Jeffrey R. Tipping | Jeff Tipping Enterprises | Palm Beach, FL |
| Tony DiCicco | SoccerPlus Camps | Wethersfield, CT |
| John Saunders | Princeton Soccer | Princeton, NJ |
| Lesle Gallimore | University of Washington | Seattle, WA |
| Tony Waiters | World of Soccer | Vancouver, BC |
| Ken Fogarty | Houston Texans SC | Houston, TX |
| Ileana Moschos | University of Pittsburgh | Pittsburgh, PA |
| Marty Stanley | Dynamic Dialog | Kansas City, MO |
| Leigh Cullip | PSPL Technical Director | Seattle, WA |
| John DeWitt | Houston Dynamo | Houston, TX |
| Alex Weaver | Highline Premier FC | Seattle, WA |
| Walid Khoury | Slammers FC | Orange County, CA |
| Bobby Howe | Emerald City FC | Seattle, WA |
| Tom Atencio | US Club Soccer | Portland, OR |
| Ted Flogaites | Hastings College | Hastings, NE |
The theme for this year's event: How coaches can improve their leadership and expertise to help today's American youth players get better at all levels of play and ultimately compete on the world stage.
These nationally recognized names led field sessions, workshops and panel discussions that aim to inform, provoke, teach and celebrate youth soccer coaching in the Northwest.
This first-ever Summit was open to all coaches in an effort to create an annual event that offers Northwest soccer coaches a place to learn, to grow and to celebrate their passion.
"This is an opportunity for all soccer coaches to unite over what matters most -- helping young players get better and spreading the passion of soccer to everyone," says Puget Sound Premier League Executive Director Stanley Holmes.
For more information about the Coaching Summit, click
As updates become available, they'll be posted on our Coaching Educationlink on our website, on the PSPL Facebook and Twitter sites.
Hit the "like" button on ourFacebook, or follow us on Twitter, to keep informed on the latest happenings at the PSPL.
###
The Puget Sound Premier League is a non-profit organization that aims to develop competitive soccer in Washington. Sanctioned by US Club Soccer, the PSPL offers a wide range of competitive divisions for U-11 to U-18 as well as U-8 to U-10 development leagues. The PSPL promotes coaching education, emphasizes player development and supports open and diverse competition. The PSPL hosts the Washington Cup, an annual statewide competition for U-11 to U-19 teams, invitational tournaments and the Pacific Coast Super Cup, a regional college showcase invitational for U-13 to U-19 teams. The PSPL is also a founding partner of the Pacific Coast Super Cup and the Northwest Champions League.